Help of baseball scorebook app 'Yakyubo T' --- Data Set
*Android App
| | |
| --- | --- |
| (Product) | (Trial) |


There are some function,Delete and Create Data Set,Upload to Yakyubo Net, Download from Yakyubo Net.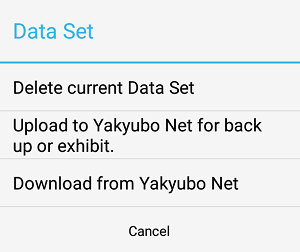 Data Set contains
All Team data such as team information and stats, player information and stats,past games
All League season data
.You can have one Data Set on phone device and on Data Set on the server of free baseball web service Yakyubo Net.



Delete current Data Set and Create a new Data Set


Delete all Team Data and Legue Data.Once you delete it,you can't restore it. So confirm much and implement.

After the deletion a new empty Data Set is created automatically.



Upload to Yakyubo Net for back up or exhibit


Upload created Data Set to free baseball web service Yakyubo Net. If you upload it,following matters occur.
The created data is opened to public on Yakyubo Net.
The created data is preserved for back up.
In order to use Yakyubo Net,enroll Yakyubo for free. If you want not to open to public it,you can hide it.
And private information of players isn't opened at all times.




Top / Input Game / League / Team Data / Data Set / Yakyubo Net / Easy Operate