Help of baseball scorebook app 'Yakyubo T' --- Save Game
*Android App
| | |
| --- | --- |
| (Product) | (Trial) |
Save the game record to General season after the game. This screen isn't showed after the game of League season.Because the game in League season must be saved at fixed season,this screen doesn't need.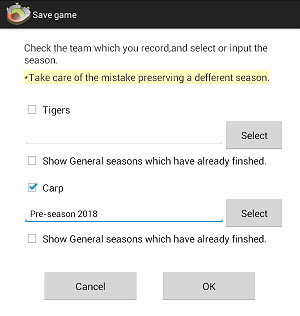 Only the team of which check is on is saved. In the upper picture 'Carp' team is saved at General season 'Pre-season 2018' and 'Tigers' team isn't saved.

Pushing 'Cancel' button,both teams aren't saved.And pushing 'OK' button, the game is saved and Box Score is showed.

The name of General season showed at first is the season name saved the most lately. If the team doesn't have a General season, the section is vacant. There are forbidden characters for General season name
.
If new season name is input and saved,new General season is created. And then following data is added automatically.
Team data if it doesn' exist.
Player data if it doesn' exist.
*About General season
Box Score