Help of baseball scorebook app 'Yakyubo T' --- Team
*Android App
| | |
| --- | --- |
| (Product) | (Trial) |


You can input detail team information. Switch the contents with '1','2','3' button upper the part of this screen. The red letters shows max letters for each item.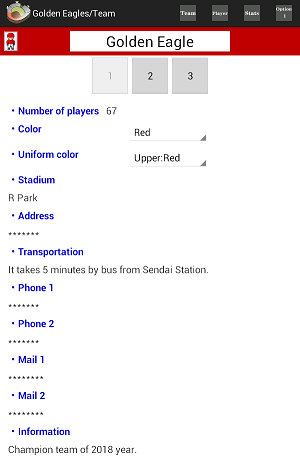 Option Button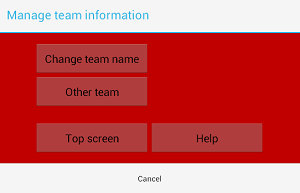 Change team name
Change team name. There are forbidden characters for Team name. And you can't use the same team name whitch already exists.

*)Concerning change of team name and delete of the team taking part in League season.
If you change team name or delete the team taking part in League season,you can't record a game in the League season. In the case of change name,you redo the team name and can resolve this problem, but deleted the team you can't do so. The same name team which is created again can't resolve this problem.
Team Information
Upper Page 1





*1・・・The set color is used at cap and undershirt.
*2・・・The set color is used at uniform.


Starting line up





Set starting line up. Tap possision or Player's Name,then you can select or input player. This line up will be default starting line up when you input game. When you change starting lineup at game,The message of "Do you change default lineup of team?" shows.If you select 'OK',this starting lineup is changed.


Evaluation of team





Evaluate ability of the team between 1 and 5.

2.Players / 3.Team Stats / 4.Stats / 5.Personal Stats / 6.Total season



Top / Input Game / League / Team Data / Data Set / Yakyubo Net / Easy Operate