Help of baseball scorebook app 'Yakyubo T' --- Total season
*Android App
| | |
| --- | --- |
| (Product) | (Trial) |


The total stats of Team stats,Pitching stats,Hitting stats,Fielding stats are showed. You can select season to sum the stats.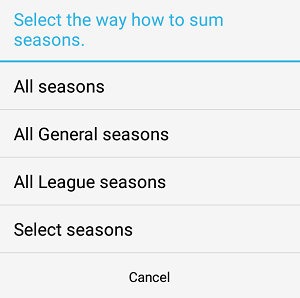 Total Team stats is showed at first.This stats is showed only a row. Tapping the row,Past games is showed.



Under showing Total season,you can operate only to print. You can't operate
Create season
Delete season
Delete all season
Change season name
Finish season,Restart season
Modify,Renew
Add Player's stats to the season,delete Player's stats from the season.
.Qualifier IP and AB are calculated from total number of games.